Check out these deals from our vendors! Whether you want a special Valentine's treat, Chinese New Year gift, or tasty meal, drop by theCOMMONS because we've got plenty for you to enjoy all month.
theCOMMONS Saladaeng
Boon Tong Kee – Chinese New Year Special Set
Celebrate your Chinese New Year with Boon Tong Kee! Pre-order their lucky sets from now until Feb 9, 2021. Feast with your loved ones and enjoy an auspicious year ahead.
Lucky Chicken Set 680 baht
Lucky Duck Set 700 baht
Lucky Duck & Chicken Set 1,299 baht
Additionally, guests who dine-in from 6pm onwards can score 50% off the Signature Boiled Chicken thigh and drumstick.
Duration: Now – Feb 28, 2021
Contact Boon Tong Kee for more details and to place your order.
Phone: 02-095-3002-3
Line Official: @boontongkee
(Fl. 2)
---------------------------------------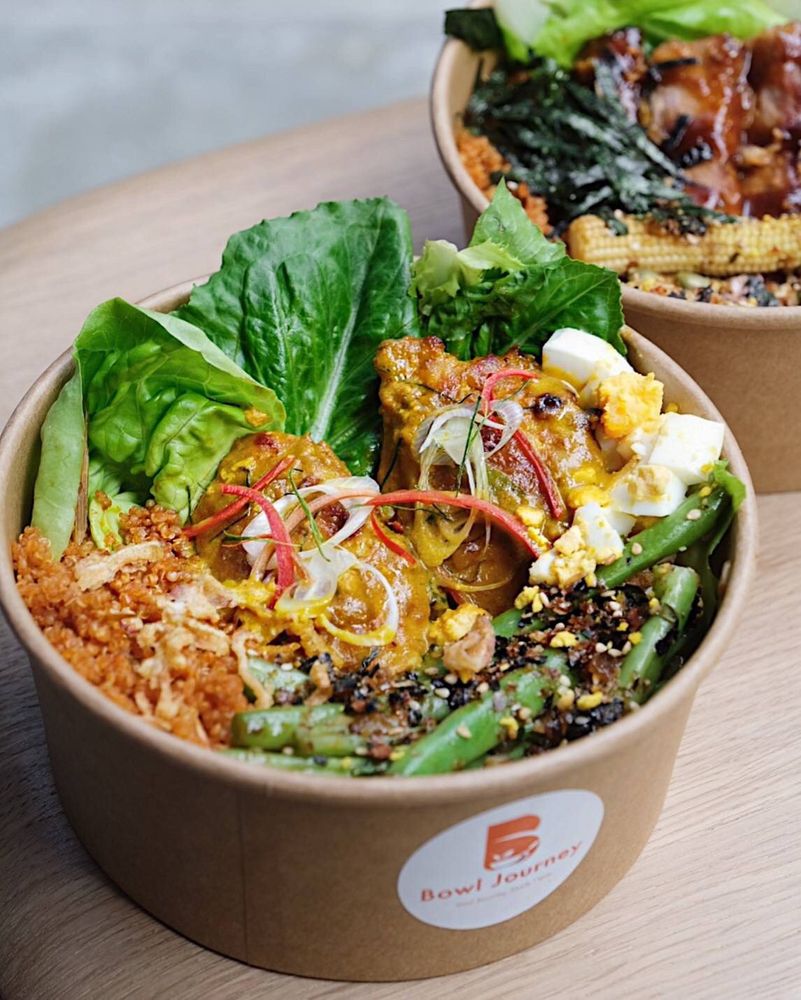 Bowl Journey – Feb & March Promo
Enjoy a 50% discount when you order their Combo B (1 Base, 1 Protein, 2 Sides, 2 Toppings, 1 Sauce). Enjoy wholesome food at a great price!
Duration: Now – March 2, 2021
(Fl. 2)
---------------------------------------
PAAK - New Menu Alert! PAAK's Immunity Series
Boost your immune system with PAAK's newest flavors! They're designed to keep you healthy and strong. Enjoy the vitamin packed goodness of fresh juice. Get the below set for just 600 baht. (200ml each bottles)
1) Green Peace (kale, mixed salad, green apple, ginger)
2) Super C (orange, lemon, lime, tumeric, ginger, black pepper)
3) Beet the Flu (beetroot, carrot, apple, ginger)
4) Immune Lemon (lemon, lime, apple, fingerroot)
5) Bloody Kale (kale, celery, green apple, tomato)
Duration: Ongoing
(Fl. 2)
--------------------------------
Roots – Buy Any 3 Cold Brews & Get 1 Free
Fuel your day with Roots' delicious assortment of Cold Brews. You'll get an extra Cold Brew for any three that you buy.
Time: 8am-12pm Daily
Duration: Ongoing
--------------------------------
Lobster Lab – Deals Galore! Pick your promo.
Check out Lobster Lab's amazing assortment of specials. Get your seafood fix at a steal.
1. Marennes-Oléron Oysters: (Only 189 baht / per oyster) These delectable oysters are cultured on the French Atlantic coast & finished in the Marennes-Oléron basin, the cradle of French oyster culture.
Duration: Now – Feb 28, 2021
Branches: theCOMMONS Thonglor & Saladaeng
2.  Whole Split Lobster - Only 990 baht (From 1,290 baht)
Treat yourself to grilled or steamed lobster served with spicy seafood sauce and garlic lemon butter.
Duration: Now – Feb 28, 2021
Branch: theCOMMONS Saladaeng Only

3.  Pasta & Main - Buy any pasta or fish & curly fries & get a free soft drink or mineral water.
The Lab's Sausage Spaghetti with a Chilli and Garlic White Wine Sauce 199 baht
Lobster Spaghetti with a Chilli and Garlic White Wine Sauce 590 baht
The Lab's Sausage Spaghetti with a Savoury Tom Yum Sauce 199 baht
Lobster Spaghetti with a Savoury Tom Yum Sauce 590 baht
The Lab's Sausage Spaghetti with a Spicy Thai-Style Seafood Sauce 199 baht
Lobster Spaghetti with a Spicy Thai-Style Seafood Sauce 590 baht
Fish & Curly Fries 199 baht
Duration: Now – Feb 28, 2021
Branches: theCOMMONS Thonglor & Saladaeng